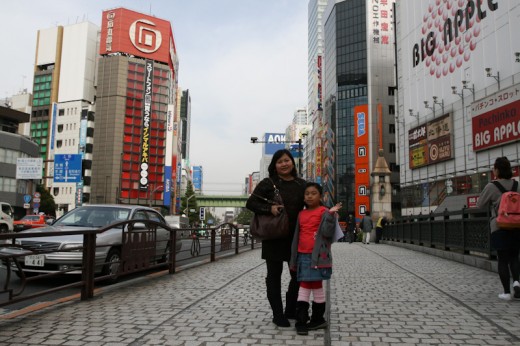 Our 2nd day in Japan was spent mostly in Akihabara. Akihabara is also known as Tokyo's Electric Town and the center of Otaku mania. Otaku is a Japanese term used to refer to people with obsessive interests, particularly anime, manga, maid cafes or video games and Akihabara doesn't fail anyone on these.
People might think that shops in Japan open early as it is a busy city but in actuality, a lot of shops open at 11 in the morning. Since we didn't have enough rest yesterday, we were glad that our itinerary for today consisted of walking down a block to the main drag of Chuo Dori Street in Akihabara at 11. Mavis and Xiane we're able to sleep soundly and woke up at past 9 AM. I was up at about 7 though I slept at probably 2:30 A.M.
Breakfast consisted of food that we bought from SUNKUS, your friendly 24/7 mini mart which was conveniently located at the corner of our street. We had some egg sandwiches, ham sandwich and these Mochi balls with beef and vegetables in them. A funny thing happened while having breakfast which I'll talk about in another post. Anyway, with breakfast out of the way, we headed to Akihabara at 11:05.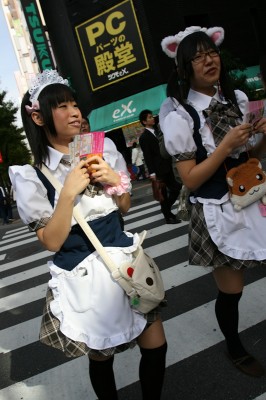 The main street of Akihabara is where our apartment is so it was the main area was only two blocks away. We went to the first corner of Akihabara and were amazed at the number of people in the streets and the number of Gachapon/Capsule machine, UFO Catchers, Vendo Machines, toy figure shops, and Ladies in Maid Costumes handing flyers. The "Maids" were in every corner trying to entice men to go to their cafes.
Our first stop was Book-Off. This is a 6-storied building, covered with wall to wall Japanese books, Mangas, CDs/DVDs and games! I told Xiane about it and really wanted to get some Mangas for herself. Sadly though, 99.9% of the Mangas we in Japanese but she was content and happy with the Doraemon and Comic Party she bought.
We entered several shops to look around and then arrived at Taito Station. This game station has several floors for UFO catchers which took our money without giving us anything in return! Sob  🙁 . We really wanted to get the K-on dolls but it wasn't meant to be.
Our next stop was at Gachapon Kaikan. This is a store on the side streets of Chuo Dori. It is filled with Gachapon machines or what we call Capsule Balls. Pick a machine where you can get a random prize from the set of toys displayed on the machine, drop your coins, turn the knob and get your toy. You have no way of knowing what you'll be getting so you may end up getting the same toy if aiming for a set. Price for each Gachapon ball can range from 100 Yen to 500 Yen. Xiane and I got some K-on Gachapon balls for 400 Yen each, Xiane got a Pokemon toy, I got a Chibified Gundam and I asked Mavis to get me those Eroge Figures! Ha ha ha! Eroge figures are those lady figures which, as you can guess, as a bit on the erotic side. You have probably more than 50 Gachapon Machine in this one shop so people usually come here for these capsules.
It was already past 2 PM and so we decided to go to Sushi Zanmai in Yodobashi to get our real taste of Japanese Sushi. We stopped by Mister Donuts to get some rest and it's one of the shops that have a toilet available in Akihabara. Late lunch was perfect! You have two options of Sushi Zanmai in Yodobashi; the ground floor serves Sushi as you order while the 8th floor Sushi Zanmai is a Sushi Kaiten, or has one of those revolving sushi belt. Mavis chose the first and chose our food. I can not emphasize how good the sushi is but it definitely is waaaay better than any sushi I've eaten. The rice was soft while the fish was as fresh as it can be. We spent 2300Yen for our lunch.
Next to follow would be our late afternoon trip to Shibuya!