We got back to the apartment by 3:45  PM. to get some needed rest as our feet were already aching. Setting off again at 4:45, braving the rush hour, we arrived in Shibuya at 5:30. Almost unbelievable! So many people! For any tourist going to Shibuya, a visit to Hachiko is a must.
Hachiko is an Akita dog who gained fame and admiration for his loyalty to his master. He used to greet his master from the Shibuya station after a day's work till his owner's untimely death in 1925. Hachiko still went to the train station every day to wait for his master till he died 10 years later. They made him a statue in Shibuya. His stuffed and mounted remains are kept at the National Science Museum of Japan in Ueno, Tokyo. We'll be visiting that museum next week!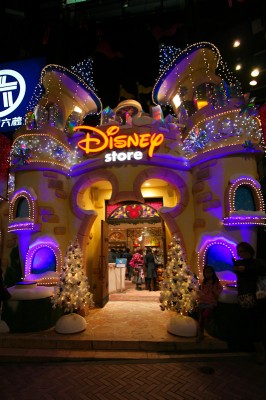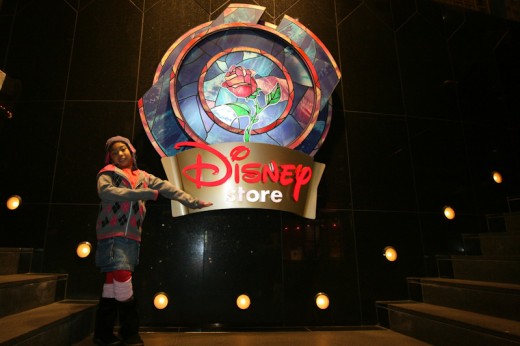 We also got our Disney Passports/tickets in Disneyland's store in Shibuya. This is what we mainly came here for tonight as it is easier to get tickets here than line up at Disneyland itself.
After a short stop, due to aching feet, we made our way to Tokyu Hands. Tokyu Hands is a 7 floor building in Shibuya where you can buy stuff. When I say stuff, it means items that you need at home and those which you do not. It is filled with items ranging from Hobby Toys (7th floor), Kitchen Items, Art, Toys, Beds and lines, cosmetics to DIY Woodworking and Home Fixtures. Some interesting finds: Star Wars Chopsticks, Elephant Dung Notebooks, Takoyaki Machines (though 100V only), Naughty USB humping Dogs, a Lego Digital Camera, and delicious Ham and Eggs iPhone covers.
Mavis bought a 1400Yen Garlic cutter, some Origami art paper for Xiane, Fabric paints, scrap booking stickers, and neck strap for our Kodak Playsport Video Camera (very convenient!) and bath salts while I bought myself a plastic case for my small figures for about 1400++ Yen. I was looking at their Gundam models but it I think Yodobashi has a bigger selection. Our overall haul in Tokyu Hands was about 8500 Yen. Sigh 🙁 Not a good way to budget. Do avoid Tokyu hands at all cost if you have a tight budget! I wonder what Daiso, the 100 Yen shop, has in store for us?
With aching feet and tired bodies, we crawled our way back to Shibuya Station to go back to our apartment.
More Photos here!