There are several ways of getting to Tokyo Disneyland and Tokyo DisneySea in Maihama. You can use the bus, train, or a rented car going there. Several Tokyo Disney Resort Hotels around Tokyo provide complimentary shuttle bus services to and from Tokyo Disney.
By Train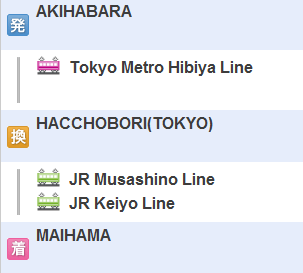 In our case, we took both the train for 3 days and tried the bus on our last day. Since we were coming from Akihabara, the fastest way was taking the JR Yamanote Line/ Metro Hibiya Line to the nearest JR Keiyo line to Tokyo Disney. We took to Metro Hibiya Line from Akihabara to Hacchobori then from Hacchobori, transfer to the JR Keiyo line/JR Mushashino line going to Maihama Station where Tokyo Disney is. The Metro Hibiya Line is AKihabara is located at the Showa-Dori Exit of the JR Station. It is not difficult to miss
as you'll see the logo below on it's entry/exit.


The total trip time would be roughly 25-30 minutes as you also need to walk a bit to transfer to the JR Keiyo line. Also, if going to Tokyo Disney on a weekday, since they open at 9 AM or 10 AM, depending on their Park Operation Calendar, you'll be trying to get on the train along with the mass of workforce of Tokyo especially on the Metro Line. Be ready to see people trying to get in, with the backs behind the train, and inching their way slowly inside the train cart. It does seem funny when you see it but it is an accepted way of getting inside a full packed train.
By Bus
Since we were tired of walking for the past 3 days, we decided to try the bus in Akihabara which takes you to Tokyo Disneyland. The bus stop is located right in front of the Yodobashi Camera building/Central Exit of JR Station. The price for adults is 700 Yen while it gets halved for kids. The bus accepts cash but also accepts your SUICA/PASMO card which you swipe once you arrive Tokyo Disney. It is more costly but it saves you from the rush hour on the Metro. Plus, it is supposed to get you to Tokyo Disney in 35 minutes. We found out later on, that this might not always be the case…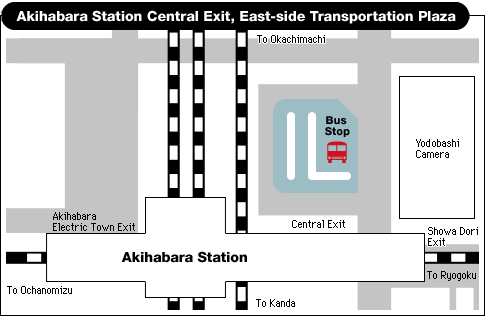 .
We got to the Bus Stop at exactly 8 AM and it was supposed to leave the station at 8:05. We were surprised that we were the only one  riding the bus. However, upon entering the Showa Dori, we were greeted with traffic. We were not sure if this was a typical occurrence in Tokyo but we experienced one of the worst traffic ever. Even besting traffic snarls in Bangkok! The bus took 30 minutes to just cross a stoplight in Showa Dori! It was both good and bad for us. Good as we were able to catch some sleep and rest our feet some more while it was bad as entering Tokyo Disneyland 2 hours after its opening can be a disaster when you have  thousands of people wanting to ride the same rides you want to ride. You'll be spending 2 hours on the waiting line if the park is full!
The bus experience was also good as it showed us how driving is in Tokyo. Pedestrians are the priority, meaning that even if the light is green, if the pedestrian light on your right is still green, you should give them priority crossing the street. It's a bit confusing for some but works well in Tokyo. Also, though there was traffic, I never heard a single horn from any car/bus. Crossways were kept open and the buses/cars were not trying to jam the intersections. It was one reason why it took our bus 30 minutes to cross a stoplight. He needed to have a space for the bus after he crosses the intersection and since everytime the light turns green, he would not have space and block the intersection, he would just wait and wait. By the time the traffic moves in front of him, other cars coming from different directions would have taken that space.
To sum it up, if you're not coming from a Tokyo Disney Resort Hotel, you can either take the bus or train. I've asked the Business Development Manager of our Apartment and was told that traffic wasn't supposed to be that bad in Tokyo and it might have been caused by road development or an accident. The train is the fastest and most reliable way to get to anywhere. The rush hour (6 AM to 9 AM) is probably your main concern though. In any case, try to make sure that you get to Disney as early as you can.