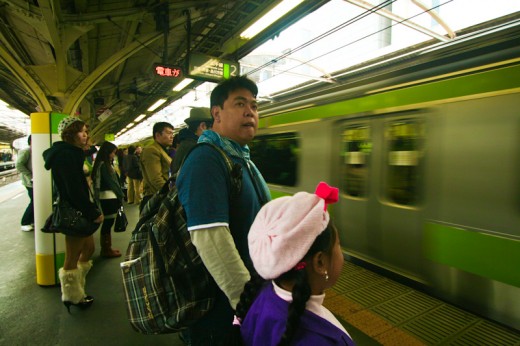 On day 3 of our Tokyo trip, we were supposed to wake up early to go to Harajuku and visit the Meiji Shrine and Yoyogi Park. Harajuku is the common name for the area around Harajuku Station on the Yamanote Line in the Shibuya ward of Tokyo, Japan.  Every Sunday, young people dressed in a variety of styles including gothic lolita, visual kei, and decora, as well as cosplayers spend the day in Harajuku socializing. The fashion styles of these youths rarely conform to one particular style and are usually a mesh of many (Wikipedia)
However, with the jet lag, lack of sleep, and aching feet, Mavis and I decided that we sleep some more, leave late and come back again on our 2nd Sunday for Yoyogi Park and Meiji Shrine. We will just fill our day with the trip to Takeshita Dori and Omotesando Hills which are in the same area. Our trip to Akihabara, though short as it was, plus the visit to Shibuya and Tokyu Hands, made us feel like walking with big round stones on our soles! Tokyo is about walking to where you want to go to. Even taking the trains forces you to walk and walk is what we did!
How to get to Harajuku from Akihabara:
AKIHABARA > JR Sobu Chuo Line > YOYOGI > transfer to > JR Yamanote (I) >  HARAJUKU
Cost: 190Yen
Takeshita Dori
Takeshita Street (竹下通り, Takeshita-dōri) is a pedestrian-only street lined with fashion boutiques, cafes and restaurants in Harajuku. Stores on Takeshita Street include major chains such as The Body Shop, McDonald's and 7-Eleven, but most of the businesses are small independent shops that carry an array of styles (Wikipedia).
Upon alighting the Yamanote Train in Harajuku and taking the Takeshita exit, the photo above is what would greet you (of course, without me and Xiane). During Sundays, this small street is filled with people, mostly teenagers flaunting their own style of dressing and shopping among the several shops lined up in Takeshita Dori.
When you enter Takeshita Dori,you'll immediately notice  that this street is not your typical street as it is filled with a mass of people.  You'll find Lotteria to your left and Wolfgang Puck on your right. Also, do notice that if you are going down Takeshita Dori, you try taking the left side while those coming up take the right side of the street. This makes it a walkable street instead of people just pushing.
Our first stop was at Sweet Box Crepes. Tokyoites fancy crepes a lot and fills them up with different fruits, creams, and toppings.  Xianelle chose Double Chocolate and  Chocolate Cream. It was so good that she was half-hearted when she agreed to share some to us! You'll see about 2 more of these Crepe Stations in Takeshita Dori alone!
We went inside Japan's 100Yen shop Daiso which has 3 floors in Takeshita Dori. Sadly, since it was Mavis who was assigned the Camera, she wasn't able to take any photos of the facade itself. I guess she was excited to go in right away. After an hour, she was carrying 2 plastic bags of goodies while telling me she had to keep herself from buying more stuff! To men out there, if you are bothered about bringing your wife to Tokyu Hands, then you can never bring her to Daiso!
Since we were running late, we went down and entered some stores that were filled with "kawaii" stuff!  In one store alone, I heard the word "kawaii" at least 20 times said aloud by Tokyoites grabbing stuff here and there! The thing that we noticed about Tokyoites is that the really buy these items and clothes. Clothes are quite expensive too.
Here are more photos of what we saw and would probably get more photos if we go back there next Sunday!