November 23, 2010 (Tuesday) – We got up early to go Tokyo Disneyland today. After having breakfast with food we bought in our nearby Sunkus, we were out our apartment at 7:20 AM. We experienced the "real" feel of Tokyo Metro and the morning Rush hour today as the trip from Akihabara to Hacchobori Station was really crowded. The trip from Hacchobori to Maihama was good as Xiane even got a seat.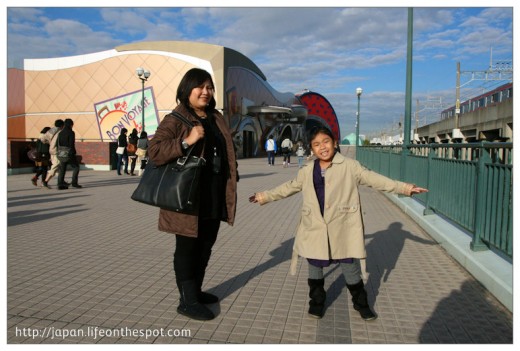 We arrived in Maihama at 8:06 AM and stopped by the large suitcase shaped "Bon Voyage" shop where they were selling loads of Disney items. Mavis wanted to buy a cap for her the other day but didn't see one she really wanted so she tried looking for one here. Disneyland was to open at 9 but the shop already had loads of people buying stuff! You have pouches for your tickets, hats, caps, toys, buckets, cookies, and your 1900Yen China-made kids' Tiarra! While Mavis was able to buy what she wanted, Xiane got to try some of the hats that all Japanese ladies must have while in Disneyland.
There was already a long line in front of us when we got to the gates but not nearly as long as the one yesterday in DisneySea and we were in fact lined up just after the covered entrance. Considering you have several gates, it also meant there were probably 700 visitors ahead of us not including the Hotel guests who were already inside the park!
When the gates opened, you'd see people rushing off everywhere and you know that you don't have enough time to enjoy whatever there is in World Bazaar except the big Christmas Tree displayed in the middle. Here is where your "Tokyo Disneyland Plan of Attack" comes in.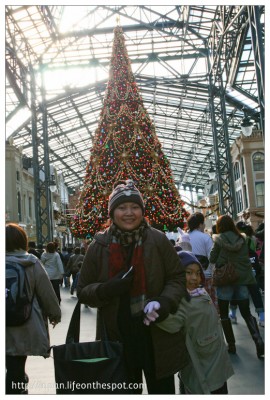 Remember that this is a Tuesday, which makes it less crowded than your weekend. By the time we reach Monsters, Inc. Ride and Go Seek, Fast Passes were already for 11 AM and there was a looong line. I grabbed Mavis and Xiane's ticket and told them to go to Buzz Lightyear's Astro Blasters to line up for the ride. I got 12:15 PM Fast Passes for Monsters, Inc Ride and Go Seek and hurried off to Astro Blasters.
Passing Space Mountain and wondering how we'd be able ride it later with its long queue, I reached Astro Blasters which has its own long queue. Since we were already able to ride this in Hong Kong Disneyland, it was ok for me to miss it as I thought Mavis and Xiane were already inside. After 10 minutes, I see them in line near the entrance and joined them. Mavis didn't have a map so she got lost a bit and thus allowed me to catch up with them in line.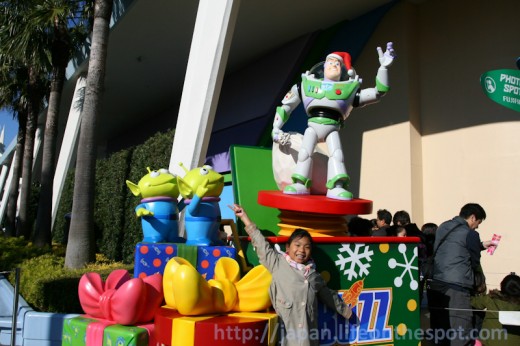 We went straight across to Captain EO but already had a 40 minute wait time. I lined up while Mavis and Xiane looked for the cart selling Caramel Popcorn. Captian EO is a "revived" Michael Jackson 3D show which Mavis and Xiane really liked but me, not much. The show was in English so there no problem understanding the flimsy plot.
You can buy a filled popcorn bucket for 1400Yen and bring it every time you go to Disneyland to try out all the flavored Popcorn available i.e. Soy Sauce, Strawberry, Caramel, Curry, Sea Salt, Chocolate, Honey…Refills go for 500Yen. You may also want to collect the different buckets in every location!
After the show, we were right in time to line up for "One Man's Dream II – The Magic Lives On", a live show with a lot of your favorite Disney Characters in Showbase.
DisneyLand Tip: If you want to see "One Man's Dream II –The Magic Lives On" without the hassle of getting thru the lottery system, the first show is on a First Come, First Seat basis. Line up at least 45 minutes before the show to get good seats.
This is a must-see in Tokyo Disneyland! It probably compares to Hong Kong Disneyland's Golden Mickey's. It would have been better if we saw the show in the evening but I didn't want to risk getting tickets thru the lottery. Loads of photos below and continuation on another post!