Note: I would be providing a downloadable Excel file of our Itinerary for this trip and the next succeeding trips. This was the itinerary we followed which really helped us on what trains to ride, how much the cost would be, web links to the places and areas, rough time tables, etc. I divided my main Tokyo Japan Itinerary by day so you can just grab the itinerary for the day. You can use this as a basis in making your own itinerary.
Download Tokyo Itinerary: Odaiba and Hamamatsucho (day 1) – Right Click > Save As

November 19 (Friday morning) – We are set to go to Odaiba today and our main itinerary should lead us to Miraikan (National Museum of Emerging Science and Innovation), Panasonic Center Risupia, Palette Town where you have Venus Fort and Mega Web, then head out to Hamamatsucho to get to Tokyo Pokemon Center! Yup, lots of stuff, lots of photos and lots of good memories!
Odaiba (お台場?) is a large artificial island in Tokyo Bay, Japan, across the Rainbow Bridge from central Tokyo.
Bringing our trusty Suica Cards with us, we traversed the JR Station to get to Shimbashi Station then cross the station to ride the Yurikamome Line to Odaiba/Daiba. We left the apartment at exactly 9 and we're on the Yurikamome line 15 minutes later.
The Yurikamome is Tokyo's first fully automated transit system, controlled entirely by computers with no drivers on board. It is named after the black-headed seagull (yurikamome in Japanese), a common denizen of Tokyo Bay and the official prefectural bird. Read more about Yurikamome on Wikipedia.
It's difficult not to admire the Japanese how they can create such infrastructures; The Yurikamome, the Rainbow Bridge and Odaiba itself.  Though a bit more expensive than the Rinkai line, the Yurikamome lets you see a panoramic view of Tokyo and Odaiba which makes the ride a sort of an attraction by itself and a must-do in Tokyo.
Tip: Riding the front car of the train makes the view and experience better. For first-timers, make sure you get to the front of the car by judging where the track is headed. If riding from Shimbashi , this would be easy as the tracks only lead to one direction. If you don't like to stand up when the front car is already full, wait for the next one so you can get the seats up front.
We got off at Telecom Center Station as it is the closest to Miraikan. From the station, you have clear signs on where to go if going to Miraikan. You have to walk for another 10 minutes to get there but in our case, those 10 minutes became a 20 minute walk as we had to stop once we saw the installations in the area.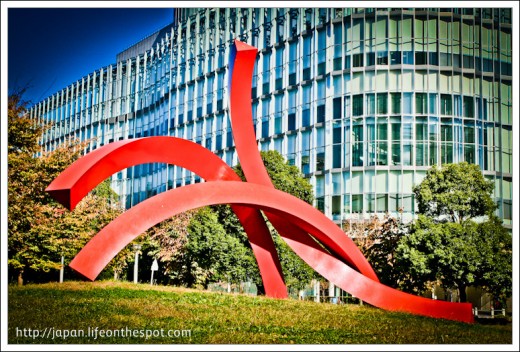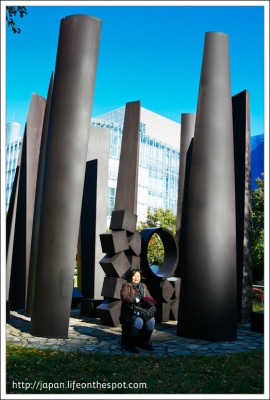 Finally reaching Miraikan, we were greeted with a bunch of students in an excursion. It seems that Japanese students go the excursions every now and then (remember the excursions to Disneyland?).
It took a few minutes before we got ourselves the Grutt Pass which is a booklet that gives you free or discounted admissions to museums around Tokyo. You can get a ticket for Miraikan by using an automated teller but for the Grutt Pass, you need to get it at a manned counter.
What is a Grutt Pass? A Grutt Pass is a value-priced ticket booklet which provides admission or discounts to the 70 facilities. Grutt Pass allows you to enter each facility once. Grutt Pass is valid for two months from the date of your first admission. Click here for more information.
We kept telling the guy that we needed Grutt Passes but he didn't seem to understand till I remembered to show him our itinerary where Grutt Pass was written in English. "Ah, Grutto Passo", he said. We smiled and got our tickets. We still got Xiane a ticket from the automated machine as she only has to pay half and eventuallly, for other museums, she gets in free so no need to buy her a "Grutto Passo".
A lot of words in English can be made Japanese if you add an "o" at the end, for example; Fried Potato becomes "Friedo Potato". Easy peasy-o!
We immediately went to an automated machine to get tickets for the Dome Theater GAIA. This is a domed theater, of course, that shows different scientific topics. We wanted to watch a different show but "Furusato" was the most convenient in terms of our schedule.
Miraikan is big and you can easily spend 3 hours there. You get to do hands-on experiments which Xiane really liked. You are actually encouraged by the staff to touch and hold the objects around you. Xiane and I were able to create our own insects, operate on a brain, look at some optical illusions, look at cells and worms under a microscope, arrange internal organs, and pet Paro (CNN Link).  I'll let the photos do the talking…
Sadly, the Geo-cosmos globe that displays near real-time displays of global weather patterns, ocean temperatures and vegetation cover was being maintained so we didn't get to see it work.
We also went to 4D2U to watch Spacewalk where you can experience high-profile 3D images presented by the Four-dimensional Digital Universe Project. Based on observation and simulation results gained through the latest astronomical techniques, you can experience a magnificent space journey from the solar system to the end of the universe. Mavis and I agreed that you can easily skip it since there was no English translation for the narration making it less appealing for foreign tourists.
Since we were already hungry and seeing a small cafeteria, we ordered some food at the Science Book Café.  We spent 1990 Yen for 3 hotdogs, a cake, coffee, and soft Ice cream. By the way, Mavis and I kept saying that if that the lady at the counter worked in the Philippines, the place would be filled with guys. She looked like Gwen Garci, who is an actress in the Philippines.
At 1 PM we went to the 5th floor to watch "Furasato". The film is in Japanese but we were offered headphones for an English Translation. I know that this may sound really bad but we fell asleep while watching. I'm not sure if it was because we were too tired,  being seated in the dark or the film not being interesting enough which led us doze off.
We were just in time to see Asimo do his thing. The presentation was in Japanese but it was ok if there were no translations as the focus is on Asimo can walk, run, kick and talk.
ASIMO (アシモ, ashimo?) is a humanoid robot created by Honda. Standing at 130 centimeters (4 feet 3 inches) and weighing 54 kilograms (119 pounds), the robot resembles a small astronaut wearing a backpack and can walk or run on two feet at speeds up to 6 km/h (3.7 mph)
We left at past 2 after going through some of the items they were selling at the Miraikan Shop. Interesting finds were the Elekit Theater, Solar Frog, Tokoyaki Space Food, Rock Collections and Asimo Figures.
See how we spent our afternoon at Venus Fort, Odabia, next.