We passed by the castle once more as we headed to the same area we were when watching Jubilation Parade to catch Disney's Electric Parade Dreamlights. The Castle was bright with lights and every 15 minutes, I think, music starts and the Castle is lit up by different Christmas-themed spotlights and colors. Another trickle of snow falls before the whole thing ends. Lovely!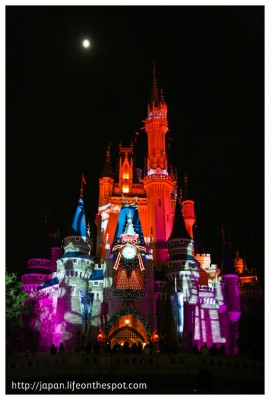 By now, it was already difficult to get a space in front of the parade path so we settled for the 2nd row. Anyway, I'll let the pictures speak for themselves. I wasn't bringing my 2.8 lens which should have given me sharper images in spite of the overall darkness so I had to make do with my f4 lens. For photographers out there, you know what I mean…
After the parade, we decided to go home and not wait for the fireworks but we did catch a glimpse of them by the time we were waiting for the train at Maihama Station. Judging from what we saw, it wasn't that spectacular and finished in 5 minutes tops.