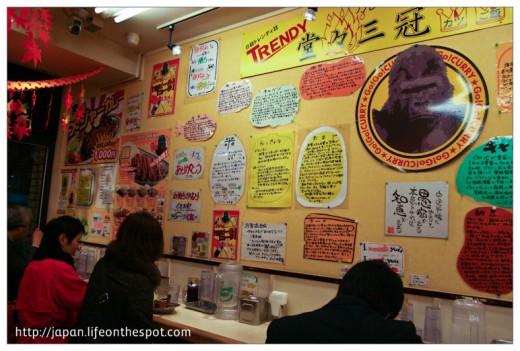 There was something in Peter Barakan's (Begin Japanology) presentation of Japan's curry that made me want to try the Japanese version of curry. So upon seeing Go!Go! Curry in Showa Dori in Akihabara, I told Mavis that we'd have to eat there. We actually made a mistake by going to the wrong exit and not the one that directly takes you to Yodobashi where we were supposed to eat. After spending the day in DisneySea, we were famished, it was raining and we didn't have any umbrellas.
Japanese Curry is quite different from your typical Indian Curry. Instead of getting a yellow-orange soup base, what you get is a thick, brownish and less "intoxicating" smell of curry. It usually is topped or has a siding of shredded cabbage that compliments the "Ru" or sauce of a Japanese Curry.
Look for Go Go Curry's unmissable gorilla sign, and fall deeply in love with their deeply broiled curry sauce. Tonkatsu and Chicken katsu are very popular toppings for curry. Go Go's dishes come in large portions, and if you find it's too much, you can request a smaller rice serving for 50yen off. The original Go Go Curry started in Kanazawa, Ishikawa, home of Major Leaguer Hideki Matsui. The name of the restaurant comes from his jersey number 55 (pronounced "go go" in Japanese). Matsui merchandise is available in the restaurant.
As with typical Japanese "Fastfood", you pick and order your food on a vending machine placed near the front of the shop. You also get to eat on the bar/counter as with other typical Japanese "Fastfood". However, this one near the JR Station is bigger than the one in Chuo Dori so you also get some chairs and tables for groups.
We decided to stay on the counter. Mavis wasn't too sure about curry so we just ordered the biggest one for the two of us. For Xiane, we ordered her the Chicken Katsu. However, all the staff started laughing when we asked for Chicken Katsu without the Curry! The curry is mildly spicy so it's something that Xiane wouldn't really eat. Xiane has very low tolerance to spicy food including anything that has some pepper on it (which we also ask the staff from Pepper Lunch to remove from her order).
So what's the verdict? I love it! It's cheap (well, cheaper than most), easy and no fuss to eat, tasty and the "Ru"/sauce is more like a thick beef gravy than your typical Indian Curry. It really does go well with rice and the shredded beef, with a little hint of bitterness, makes a good side dish. Mavis said she wasn't really impressed but I didn't expect it to be food that you would really consider "amazing" due to the price. The Major Curry Mavis and I shared was about 1000Yen while Xianelle's Katsu was only 720Yen. If you want something cheap,"fast food", Go! Go! Curry! would definitely satisfy your tummy!
By the way, Xiane did finish hers as the fried chicken tasted more like her Chicken nuggets from Sadia (a middle eastern brand).