We went back to Tomorrowland and Mavis and Xiane were able to ride on the Grand Circuit Raceway. We then left Mavis in one of the restaurants so that Xiane and I can ride Space Mountain again. By the time we got out of Space Mountain at 4:55 PM, it was already dark. By this time, Mavis was already tired while Xiane wanted to go back to ToonTown to ride Roger Rabbit's Car Toon Spin. Giving in to Xiane's request, we went to the other side ToonTown and spent the next hour there. Both Mavis and Xiane didn't really like Roger Rabbit's Car Toon Spin especially with the looong wait they had to endure. Xianelle had more fun trying all the silly stuff you can see in the area; from exploding fireworks to manholes that talk.
We left ToonTown at 6:15 and we were still deciding where to go when Xiane saw Snow White's Adventures in Fantasyland and so we lined up for another 20 minutes. The ride was actually delayed a bit more as a passenger's cap fell before getting off his cart. The Cast Members manning the ride had to follow protocols and procedures so they didn't just grab the cap near the track but had to stop everything, call a safety engineer and made sure everything is turned off before getting the cap. Even after that, the safety engineer had to ride and test the track by himself before letting other people ride again. That just shows the importance of safety for them. In other countries, they could just have easily picked up the cap and moved on. As for the ride itself, nothing really fancy and a ride, most teens and adults may want to cross out of their itineraries.
We passed thru Cinderella's Castle and watched as the castle lit up once more to several colors and spotlight. At the near-end, Xiane was all over the area, trying to catch the snow falling from the two pillars in front of the castle.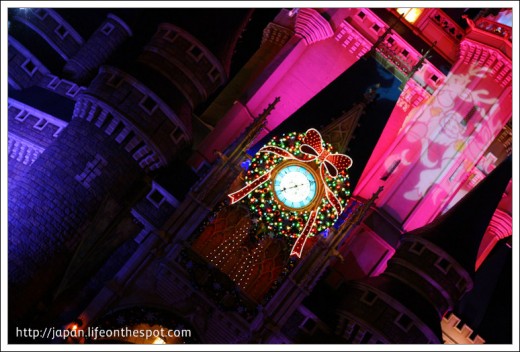 We were undecided if we were going to watch the Electric Parade but while waiting, Mavis saw another group eating Turkey Legs. This was our last day in Disneyland so we had to try them unless we spend time regretting of not trying them out. I hurried off to Westernland and bought 2 pieces. I don't remember for how much, probably 500 Yen each? By the time I got back, Mavis decided we just eat the Turkey Legs then go home since we didn't really have a good location to watch the parade anyway. Remember, to get good seats and location, be on the parade route at least an hour early. By the way, the Turkey Legs were good. Sorry if I don't have a photo 🙁
And that ends our 4 day Disneyland/DisneySea Adventure! More of our adventures around Tokyo next time.