November 18, 2010 (Thursday) – We've been taking the trains to go to Disney Resort for the past 3 days and though the Metro Hibiya station is near us, you still have to spend at least 5 more minutes walking once you go down the station to get to your train and then walk another 3 minutes to transfer to another train. Then you have to walk from Maihama Station to Disneyland. By the time you get inside Disneyland, you may have walked a kilometer or more.
This Thursday morning, we thought of riding the Disney Bus from Akihabara to Maihama. This is a direct bus so we thought that it would save us the effort of walking/transferring trains, get us there in time and just to try out riding the bus instead of the trains. The bus also stops in front of Disneyland itself so no need to walk to bridge from Maihama Station which is probably another 5 minute walk.
We were just in time to see the Tokyo Bay City Bus parking at East-side Transportation Plaza in front of the Akihabara Central Exit and just across Yodobashi. The first bus is scheduled to leave at 8:05 and we were there at exactly 8.  The driver signaled us to wait for 5 minutes as he waits for the exact time to let passengers in. We were quite surprised that nobody else was taking the bus as I thought this would be filled up. But then again, as you'll note on my next post, foreign tourists compromise only a very, very small percentage of those crowding the Disney Resort. We would only be 5% of the total crowd.
Once it was time, we hoped in and were asked to show our Suica cards to the driver. We didn't swipe them yet but needed to show that we had each our own Suica Card. As with the trains, you can't just pass around your Suica for the use of your other companion. We expected to be in Disney in 40 minutes! We were happy that we had the bus for ourselves and didn't do a lot of walking this morning. However, after spending 30 minutes stuck in traffic and seeing we haven't even got far from Yodobashi, we knew this would a looong ride. We all got to sleep and 30 minutes after, we were still in the same street though we've crossed one intersection at least! It was crazy as the bus had to wait till he was sure that he gets ample space at the street across him before he crosses the stop light. That meant he had to wait for 30 minutes in front of the stop light and miss at least 5 green lights! It wasn't enough for the driver to get space enough for a car but the end of the bus shouldn't be sticking out past the pedestrian line. And what is surprising? Never did I hear a car honk his horn in this traffic.
2 hours later, as you can note from the photo above, we finally reached Disneyland! I hurried off to get Fast Passes for The Haunted Mansion Holiday Nightmare as Xiane wanted to ride it again while they went to Big Thunder Mountain to line up. I was probably twice as fast as them so I ended up waiting for them for another 5 minutes in front Big Thunder Mountain. Waiting in Disneyland isn't much of a bore as it's entertaining enough to watch people walking to and fro. I was even asked to take photos of a group of girls and I asked them if I could take a photo of them with my camera and they gladly posed for me. See below.
The standby time was just 20 minutes. Since only 2 people can ride, I got separated as Mavis and Xiane got in the first train. And with lines in Tokyo, you don't get to actually pick where you'd be seated and if you're in front of the line, you are pointed to the farthest seat. That means, if it's a train like this, I get to sit at the back instead of the front, and when in a theater-type ride, you get to sit at the back and to the far right or left. Not in the middle. It would be rude to just sit down in the middle and let others pass you and take the seats "allotted" for you since you were first in line. In any case, the ride was enjoyable and I got good shots too!
We proceeded to The Haunted Mansion as our Fast Passes were due at 11:15 then went on to ride "It's a Small World". When we went to Hong Kong Disneyland, 3 years before, they were just starting to build "It's a Small World" so it was great to have seen this in Tokyo.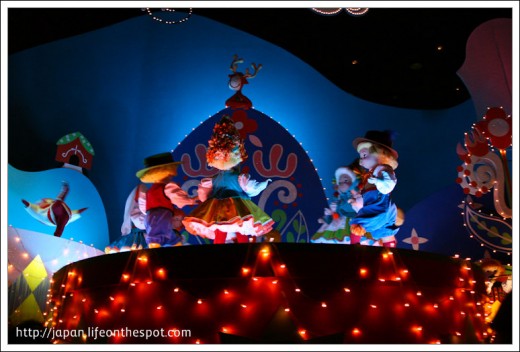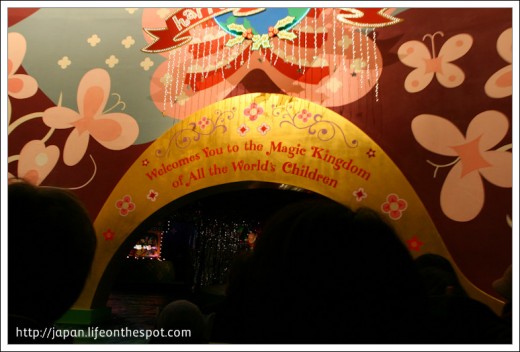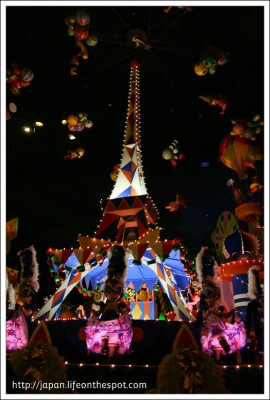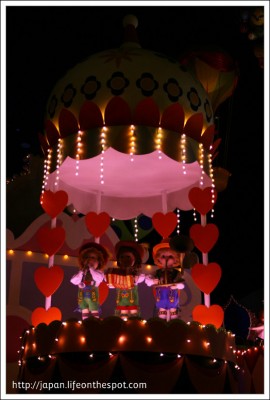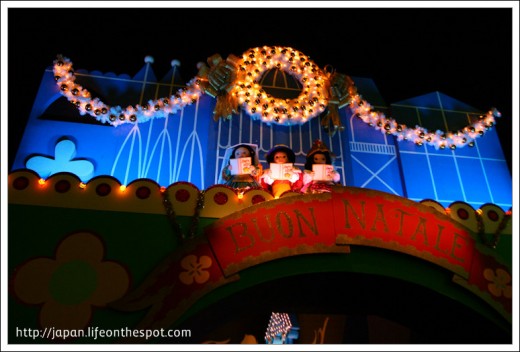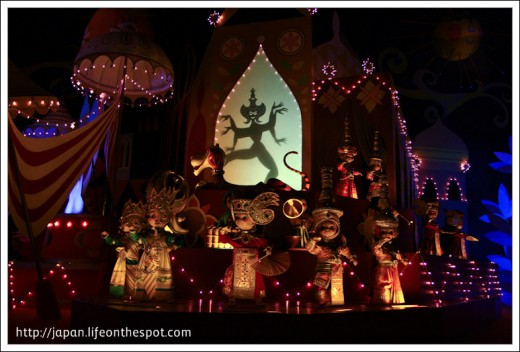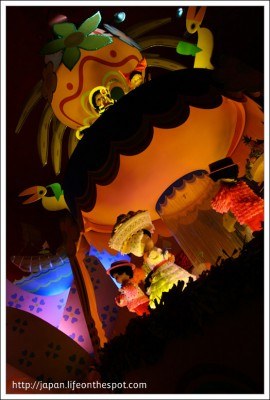 2nd part of our last day in Disneyland next…