From Miraikan, you'd be able to see Venus Fort from a distance. We were supposed to take the Yurikamome to Venus Fort but then going back to the station would mean walking almost the same distance as going straight to Venus Fort. Walk is what we did.
We stopped in front of a building that had some "kawaii" dog figures to get some shots and was amused at the Vendo Machine in the corner of nowhere. After 10 minutes, we finally reached Venus Fort.

Venus Fort is a shopping mall designed to resemble a medieval European village. Inside, the painted ceiling is lit up with lights that reflect the time of the day. If you're from Doha, it's basically like Villagio except that Villagio is brighter and wider, its ceiling doesn't change color, and only has a ground floor.
Since it was close to Christmas, Venus Fort was decorated with more lights than usual. There were not a lot of people in the mall itself and the shops themselves are quite tiny in size in comparison to the usual malls. We didn't have any map of the mall so we just went walking and walking.
We saw Kiddyland and went in again just to see some stuff. If you really want to see how big Kiddyland can be and thoroughly enjoy it, you have to go to Omotesando in Harajuku. Tere is no comparison as Kiddyland in Omotesando is 3 floors of enjoyable fun just looking at all the variety toys available in the shop. Kiddyland In Venus Fort didn't really stand out.
Walking further, we saw some caricature drawings displayed in the middle of the pathway and immediately asked the guy how much it would cost us to get ours done and how long it would take. We decided that though it is quite expensive at about 6000+ yen for the 3 of us, it would be a good souvenir from Japan so we sat there for 15 minutes. He probably took 15 minutes to draw the basic outlines and then took another 15 to color the drawing. We had a good laugh when he showed us our distorted and exaggerated faces but were impressed with what he did so it was money well spent!
By chance, we found the Lego ClickBrick Store! Xiane played a bit in their play area trying to build something. She isn't that too creative with Legos as I was when I was a kid but she did try . I went gaga over the number of displayed Lego boxes for Star Wars but deemed them to expensive for my budget so I settled for some Star Wars Lego figures. At first I chose to buy the Key chains but then saw the magnets and asked the lady in the cashier if we can exchange them for the magnets.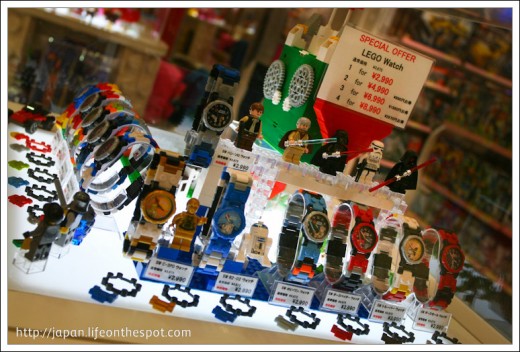 Moving on, we were getting hungry and were looking for a place to eat but Mavis found a shop that sells lots of Japanese souvenirs so we got in and told our rumbling tummies that we may never have the chance to go back to that shop again. I was able to buy a colleague a key chain ninja and I bought myself one of those traditional Japanese bandanas you tie to your head as I got reminded of "The Karate Kid" when I saw the cloth. It turns out that this would be one of my favorite souvenirs from Japan and would constantly wear it at home! I wish I bought the red and black ones too! Mavis got loads of stuff for friends and family.
We finally got to the actually front entrance and got ourselves an English map. With a map in our hands, we looked for a fastfood joint where we could quickly chow down some food. We saw Toyota MegaWeb but we're hungry and knew that we would not have enough time for it anyway since we had plans to go to Pokemon Center after Odaiba. However, we stumbled upon Hello Kitty's Kawaii Paradise when we got down the escalator and totally forgot about eating again! Yup, it seems our penchant for seeing something "Kawaii" is getting the better of our rumbling tummies. Time is such a commodity in Tokyo! We even passed buying food in a small stall in front of Hello Kitty's Kawaii Paradise as we were not sure if they'd let us in with food in tow.
It was Hello Kitty Paradise indeed as it was filled with anything and everything about Hello Kitty. We are not really fans of Hello Kitty and her friends but it's a Japanese thing so we just looked and looked at the merchandise. We also got lucky that we saw one of the characters' Mascot come out to sing and dance for a while. I'm not sure if they do this by the hour or only a couple of times during the day.
What was really funny was how we were again pulled in to playing these Japanese UFO Catchers. There was one entertainment area literally 3 steps outside one of the exits of Hello Kitty's Kawaii Paradise (HKKP) which Xiane had run off to, thinking it was still part of HKKP and we got sucked in. But it was a good day for us as we got a Hello Kitty and Kuromi plush toys. If you watch the video below, note that I didn't even know who I was trying to get and thought anybody in Hello Kitty's world is called Hello Kitty 🙂 .  Xiane had to tell me several times that the character was named "Kuromi". For the duration of our stay in Tokyo, we kept blurting "Her name is Kuromi, her name is Kuromi, her name is Kuromi". We still do sometimes 🙂
We're off to Pokemon Center in Hamamatsucho next!