November 19 (Friday evening) – We spent more time than we planned for in the arcade beside Hello Kitty Kawaii Paradise and it was getting late. We were now desperate to look for the bus stop where we could ride the bus to Hamamatsucho to go visit the Pokemon Center.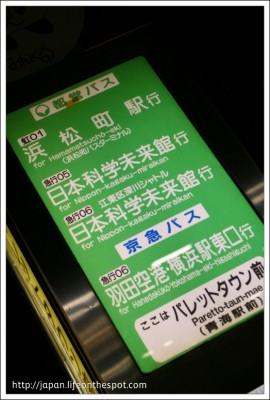 Xianelle has been a Pokemon fan since she was 5 years old and has accumulated some Pokemon stuff dolls since then. One of the things that excited her most for the trip was the visit to Pokemon Center. And it was this that probably kept her from complaining though we've been walking the whole day and not getting enough food in our system.
I didn't exactly know where the front of Venus Fort was but I knew that it was where the Bus stops for Hamamatsucho. We could have taken the Yurikamome Line to Shimbashi and then to Hamamatsucho but the bus is the fastest way without the need to walk stations. Also, it is cheaper!
Based on my itinerary plan, the bus was supposed to arrive in 10 minutes and if we miss it, it would take another 20 or so minutes before another arrives. I crossed the walkway that connects Venus Fort to the other side and found two Japanese men waiting for a bus. Luckily, it was the same bus that they were waiting for! The signs on the Bus stop actually show you how close the bus is and lights up the appropriate size/distance of the bus. The bus arrived exactly after 8 minutes!
The problem with the bus was that there were no more seats available so we had to stand for 33 minutes till we got to Hamamatsucho. It would have been faster if it was a direct trip from Venus Fort to Hamamatsucho but there were lots of stops on the way.
Getting out of the bus, the most prominent thing you'd see is the red Tokyo Tower. It is a long walk from the bus station and even the JR Station so Tokyo Tower was not really in our itinerary that day. We did get some photos of course!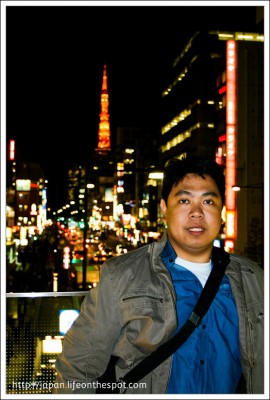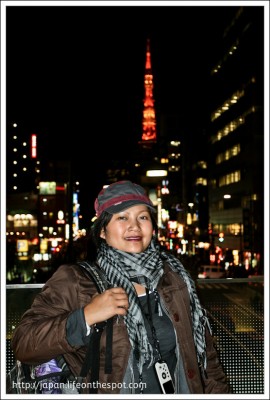 I can't say that it was huge and I would have expected it to be bigger but it is where you would see the most Pokemon merchandise in one place. This ranges from cereals, cookies, Pokemon food, pens, tin cans, mugs, towels, stuffed toys, DS covers, kids underwear, jackets, rarities and more.
Most of the items are either the new Pokemons from the Black and White Game that has been released in Japan or Christmas-themed items. I expected to see lots of UFO Catchers and Capsule machines carrying Pokemon items but sadly, we only saw capsule machines that didn't have good items in them.
Mavis wasn't too much of a Pokemon fan so after going around, she waited for us outside where she could sit. Xiane and I went back and forth, looked at all the nook and crannies and debated on what Pokemons she'd buy. We did promise her that we'd get her 3 stuffed toys before leaving for Japan since she did great in her school's with her progress report card as proof.
There were a lot of people doing some shopping and there were other tourists who didn't really know why they were there or what people were fussing about. When it was time to do the real shopping, Xianelle was trying to pick a big Mijumaru Pokemon. This would have been a problem since it would occupy bulk of the space for us in our luggage but I got to convince her that it would be better to get the 4 smaller Pokemon Plushies than just 1. Since the big Mijumaru would cost 4 times than the smaller plushies. So it took her another 10 minutes to decide on who to get as they were all "kawaii". She just can't seem accept to leave the other Pokemons as they'd feel sad for not being picked.
In the end, she ended up getting Chilarmii, Yooteri and Musharna. I asked why she didn't pick the normal sized Mijumaru and was told that it wasn't smiling like the big Mijumaru. Also, I got her a Zorua, which I kept hidden so we can give it to her for Christmas! It was already 7PM by the time we left the Pokemon Center.